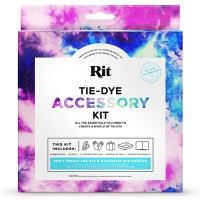 Dyeable Fabrics / Dye Kits
Reference: RIT-85857
Brand: Rit®
Revive your favorite faded jeans or re-color shirts.
Reference: RIT-81907
Brand: Rit®
The essentials you need to create a world of tie-dye.
Reference: vKONA-PFDBLEAC
Brand: Robert Kaufman Fabrics
High quality, 45" wide, 100% cotton (PFD Bleached White) Kona® PFD Cotton from Robert Kaufman that is scoured and ready for dyeing, painting or printing.