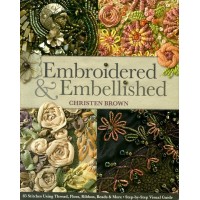 Embellishment
Reference: v10901
Brand: C&T Publishing
85 stitches using thread, floss, ribbon, beads and more. Step-by-step visual guide.
Reference: BP4-6na
Brand: Breckling Press
With a few quick folds, a stitch or two and a finishing tuck, Kumiko Sudo's miraculous three-dimensional flowers come to life in your hands.
Reference: 8481-4na
Brand: Watson-Guptill Publications
Kanzashi in Bloom offers advice on materials, three petal-folding styles and techniques for assembling a kanzashi flower.
Price
$10.98
Regular price
$21.95
 In stock