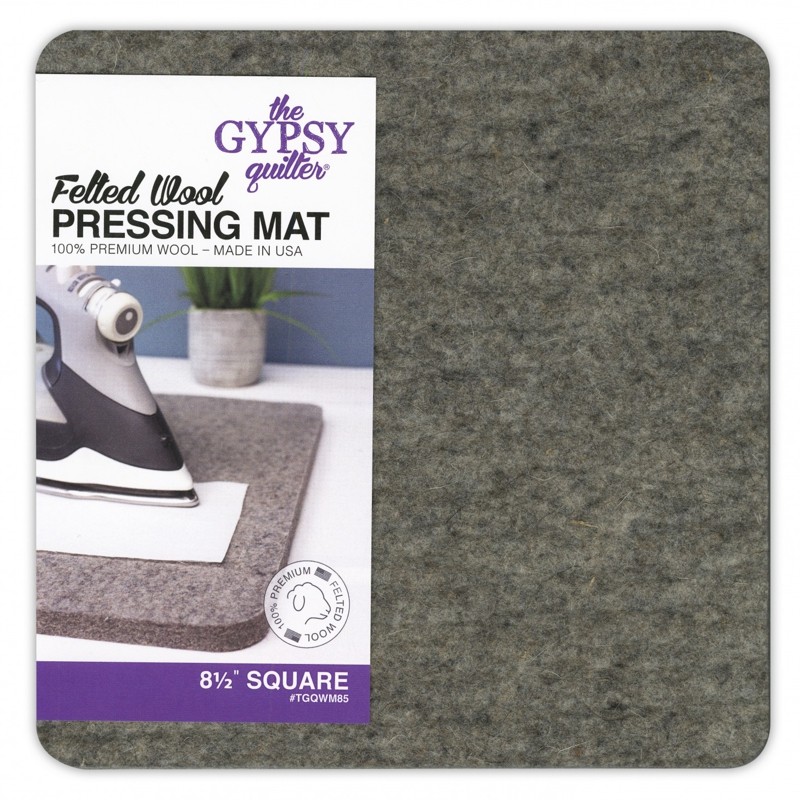  
Wool Pressing Mat - 8 1/2" Square
Press any pieced or embroidered block with ease.
Shipping by Media Mail
US orders containing ONLY books will be shipped by Media Mail with the excess postage refunded.
Thank you for your order!
We appreciate it.
Press any pieced or embroidered block with ease. The density of this high-quality 100% felted wool mat absorbs seams and stitches, effectively pressing both sides as once. Block knitted projects as well by pinning them directly to the mat.
An added bonus? The texture of the wool stops fabrics from shifting so there is no distortion when pressing.
Tips and Tricks:
The pressing mat can be used with a dry iron on any surface. If using steam, place the mat on a protected surface since moisture does go through the mat and can harm the surface below. Surfaces such as Formica®, Corian®, stone and metal (an ironing board) all work well. Wood and painted surfaces should be avoided. Never place the mat on a rotary cutting mat when pressing. The heat could warp the cutting mat.
If mat feels damp after use, hang to air-dry before storing.
Wash the mat occasionally by rinsing it in cold water and hanging the mat until dry--especially if using a spray starch.
A wool mat is a handy tool for quick pressing when kept next to your sewing machine. Enjoy.
100% felted premium wool.
8 1/2" x 8 1/2" x 1/2".
Reference: vTGQ135
Brand: The Gypsy Quilter®
Give your wool mat a refresh with this clever cleaning tool.
Reference: vTGQ139
Brand: The Gypsy Quilter®
The Position & Press Quilting & Sewing Silicone Tools from The Gypsy Quilter® are a must-have addition to your sewing box.
16 other products in the same category: