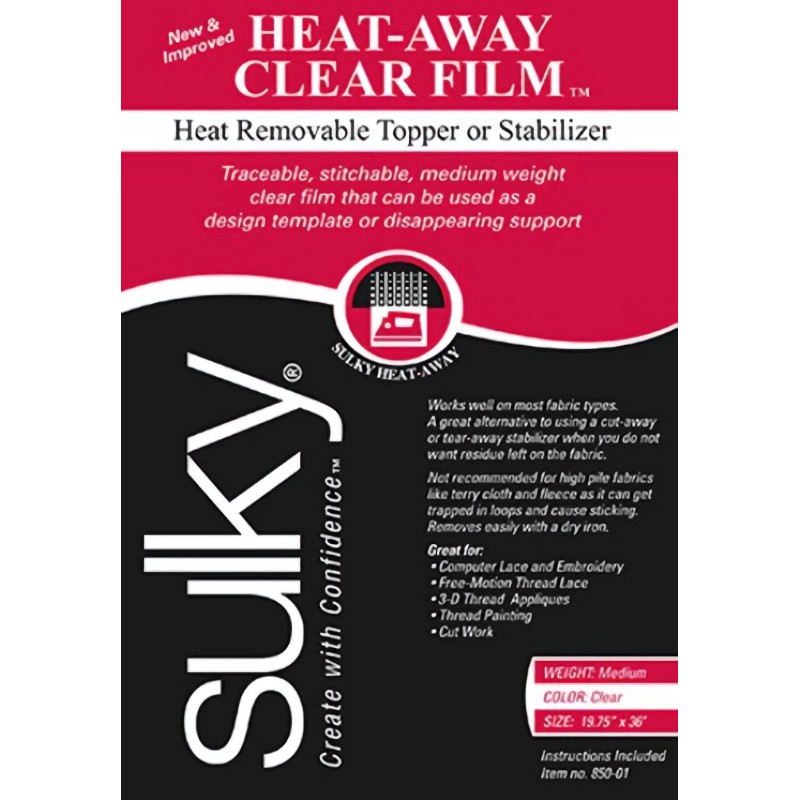  
Sulky® Heat-Away Clear Film™
Heat removable topper or stabilizer.
Shipping by Media Mail
US orders containing ONLY books will be shipped by Media Mail with the excess postage refunded.
Thank you for your order!
We appreciate it.
Heat removable topper or stabilizer. Traceable, stitchable, medium weight clear film that can be used as a design template or disappearing support.
Works well on most fabric types. A great alternative to using a cut-away or tear-away stabilizer when you do not want residue left on the fabric.
Not recommended for high pile fabrics like terry cloth and fleece as it can get trapped in loops and cause sticking. Removes easily with a dry iron.
Great for: Computer lace and embroidery, free-motion thread lace, 3-D thread appliques, thread painting, and cut work.
Available in 2 sizes.
Package: 19 3/4" x 36".
Roll: 7 7/8" x 9 yards.
Reference: 551-01
Brand: Sulky®
The ideal stabilizer for hooped, computerized machine embroidery.
Reference: v457-12
Brand: Sulky®
Printable, self-adhesive, fabric-like, water soluble stabilizer.
16 other products in the same category: