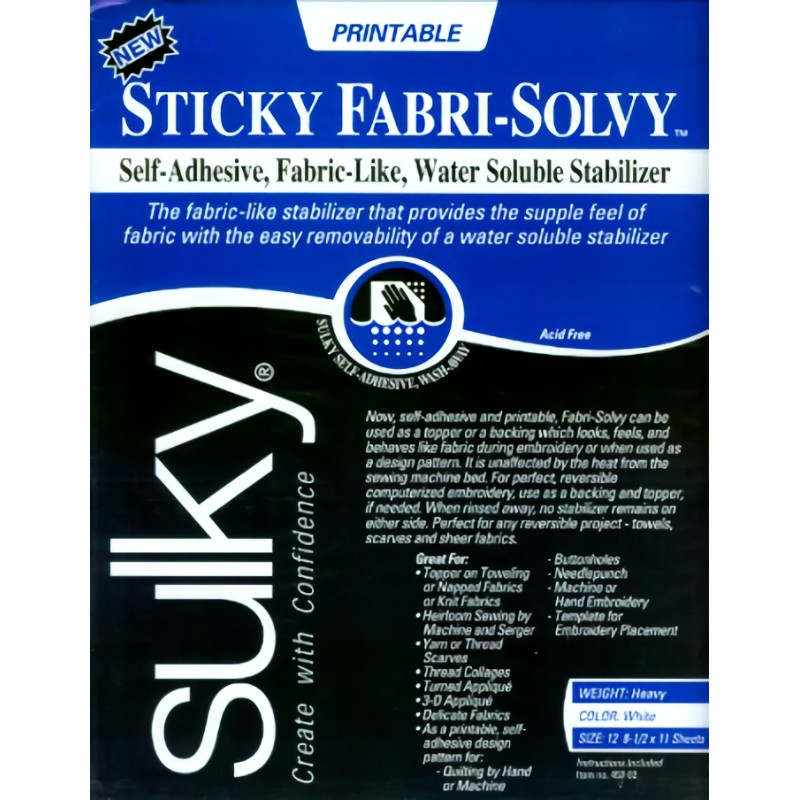  
Sulky® Sticky Fabri-Solvy™
Printable, self-adhesive, fabric-like, water soluble stabilizer.
Shipping by Media Mail
US orders containing ONLY books will be shipped by Media Mail with the excess postage refunded.
Thank you for your order!
We appreciate it.
Printable, self-adhesive, fabric-like, water soluble stabilizer. The fabric-like stabilizer that provides the supple feel of fabric with the easy removability of a water soluble stabilizer.
Now, self-adhesive and printable, Fabri-Solvy™ can be used as a topper or a backing which looks, feels and behaves like fabric during embroidery or when used as a design pattern. It is unaffected by the heat from the sewing machine bed. For perfect, reversible computerized embroidery, use as a backing and topper, if needed. When rinsed away, no stabilizer remains on either side. Perfect for any reversible project - towels, scarves and sheer fabrics.
Great for: Topper on toweling or napped fabrics or knit fabrics, heirloom sewing by machine and serger, yarn or thread scarves, thread collages, turned applique, 3-D applique, delicate fabrics, as a printable, self-adhesive design pattern for: quilting by hand or machine, buttonholes, needlepunch, machine or hand embroidery, or a template for embroidery placement.
Available in 2 sizes:
Package: twelve 8 1/2" x 11" sheets.
Roll: 12" x 6 yards.
Reference: 551-01
Brand: Sulky®
The ideal stabilizer for hooped, computerized machine embroidery.
Reference: v850-01
Brand: Sulky®
Heat removable topper or stabilizer.
Reference: v664-01
Brand: Sulky®
A permanent, iron-on "cover-a-stitch" or stabilizer.
16 other products in the same category: