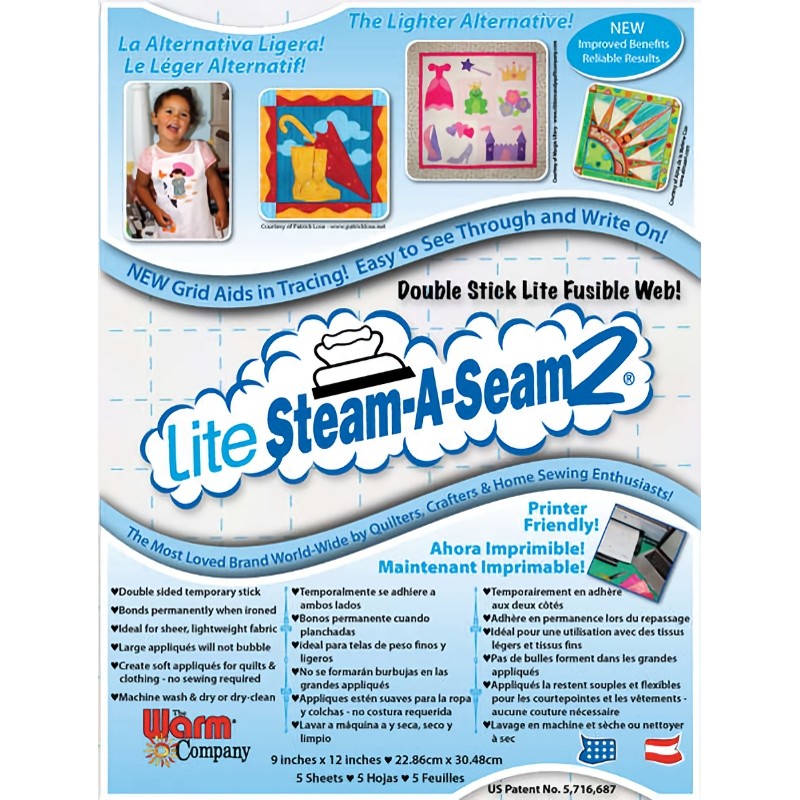  
Lite Steam-A-Seam 2®
Double stick lightweight fusible web.
Shipping by Media Mail
US orders containing ONLY books will be shipped by Media Mail with the excess postage refunded.
Thank you for your order!
We appreciate it.
Double stick lightweight fusible web. Ideal for sheer, lightweight fabric. New grid aids in tracing. Easy to see through and write on. Steam iron or pre-wash to remove sizing and other treatments from fabrics for best performance. Always set your iron temperature for the type of fabric  you will use.
Sewing is not required to finish the edges but if desired Lite Steam-A-Seam 2® will not gum your needle. The paper liner makes an ideal tear away stabilizer. Machine wash and dry finished projects without fabric softeners or dry clean. Fuse fabric, lace, ribbon, paper and more. Large appliques will not bubble. Create soft appliques for quilts and clothing--no sewing required.
Five easy steps for applique:
Trace or print. Printer friendly. Print patterns from your desktop printer on the grid side of Lite Steam-A-Seam 2 instead of tracing.
Peel and stick. Double sided temporary stick.
Cut out.
Remove paper.
Press 20+ seconds. Bonds permanently when ironed. Sewing is not requred but is okay. Sew without gumming needle.
Package contains five 9" x 12" sheets.
16 other products in the same category: