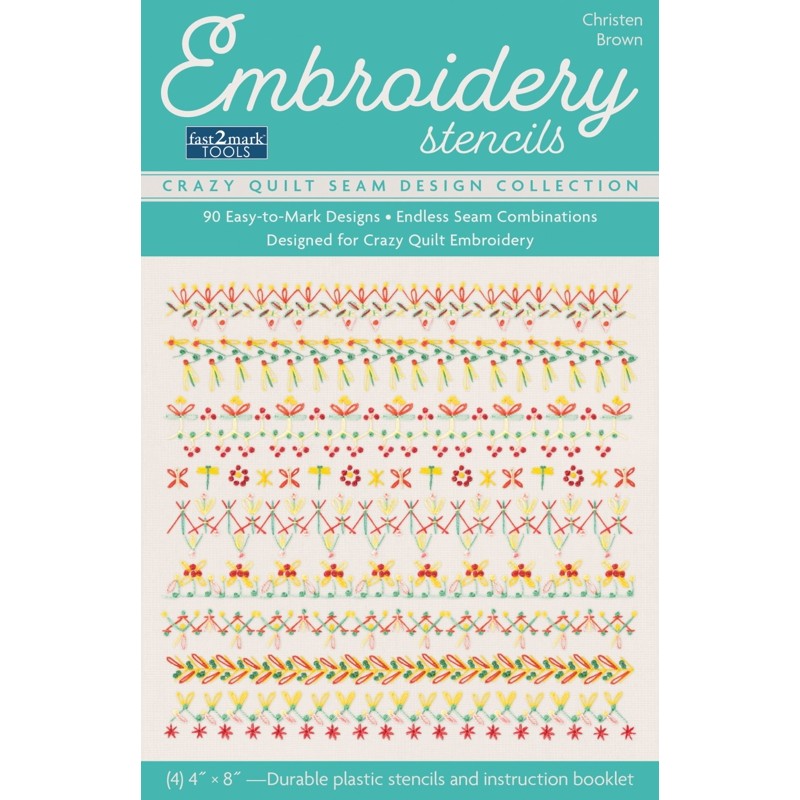  
Embroidery Stencils - Crazy Quilt Seam Design Collection
90 easy-to-mark designs. Endless seam combinations.
Shipping by Media Mail
US orders containing ONLY books will be shipped by Media Mail with the excess postage refunded.
Thank you for your order!
We appreciate it.
90 easy-to-mark designs. Endless seam combinations. Designed for crazy quilt embroidery, these stencils are easy to handle and create perfect markings every time! They can be used on crazy-pieces and strip-pieced projects to add that special touch of embroidery stitching.
Flexible, see-through stencils made of laser-cut, durable, translucent, medium-weight plastic make it easy to see your fabric and seams to perfectly position your design!
The complete how-to booklet includes right and left-handed directions for the straight stitch, backstitch, blanket stitch, Cretan stitch, feather stitch, fern stitch, chevron stitch, herringbone stitch, cross stitch, French knot, fly stitch, and lazy daisy stitch.
Package contains four 4" x 8" durable plastic stencils and instruction booklet.
Reference: CT20352
Brand: C&T Publishing
4 easy-to-use stitch templates equal 90+ easy-to-mark designs for endless combinations.
16 other products in the same category: