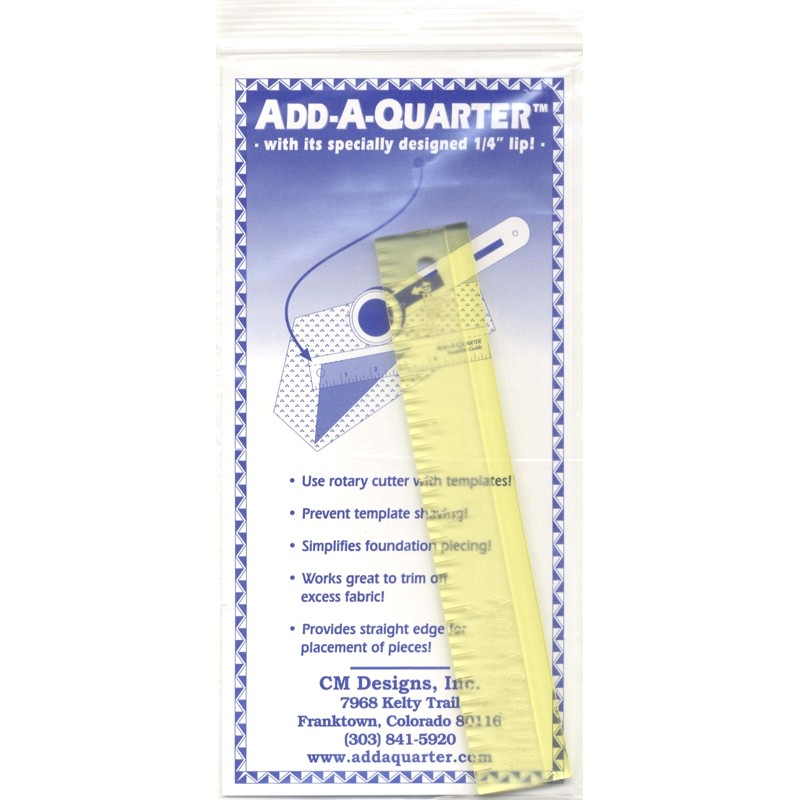  
Add-A-Quarter™ - 6" Ruler
Add-A-Quarter™ with its specially designed 1/4" lip!
Shipping by Media Mail
US orders containing ONLY books will be shipped by Media Mail with the excess postage refunded.
Thank you for your order!
We appreciate it.
Add-A-Quarter™ with its specially designed 1/4" lip!
Use rotary cutter with templates!
Prevent template shaving!
Simplifies foundation piecing!
Works great to trim off excess fabric!
Provides straight edge for placement of pieces!
Using the Add-A-Quarter™ with templates:
The Add-A-Quarter™ combines the speed of rotary cutting quilt pieces with the accuracy of using templates. Prepare your templates by tracing each pattern piece, on the seam line, onto template plastic or freezer paper. Carefully cut out each template. Remember, you will be cutting out the templates without the seam allowance.
To keep templates from slipping on the fabric while cutting, roll a piece of masking tape into a circle, making double-sided tape. Stick take to the back of each template.
Layer fabric on cutting mat--you can stack 4 to 6 layers at a time! Place template on fabric, leaving at least 1/4" fabric margin around all sides (more for acute angles). Be sure to line up the marked grain line with the grain of the fabric.
Position Add-A-Quarter™ (lip side down) snugly against one edge of template. Cut with rotary cutter. Rotate Add-A-Quarter™ around the template, cutting all sides.
For hand piecing, place the clear, 1/4" lip of Add-A-Quarter™ on outside edge of the fabric piece; using pencil, mark seam line.
Using the Add-A-Quarter™ in foundation piecing:
The Add-A-Quarter™ allows you to use your rotary cutter when foundation piecing to trim excess fabric and provide a straight line for placement of the next fabric piece.
Sew the first two fabric pieces onto the foundation.
Fold foundation back along sewing line of the third piece. (If desired, use a 3" x 5" card as a straight edge to fold foundation over.)
Place Add-A-Quarter™ snugly against the fold, trim off excess fabric from the first two pieces with rotary cutter, leaving 1/sU4". This will provide a straight edge to position your next fabric piece before sewing.
Reference: vCM1-8
Brand: CM Designs
Add-An-Eighth™ with its specially designed 1/8" lip!
Reference: vCM12
Brand: CM Designs
Add-A-Quarter™ with its specially designed 1/4" lip!
16 other products in the same category: